GYMNASTICS - 3rd Session
Register Now!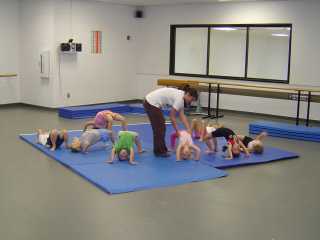 Registration Period
Now until the classes are full. These classes fill quickly...register early!
Registration Form and Fees
Click here for a printable registration form. Click here for online registration instructions. To begin the online registration process, click on the link below.

Program Format
Each class meets once per week on Wednesdays. Session #3 will be held for five weeks on the following dates: 1/8, 1/15, 1/22, 1/29, and 2/5. Classes will be held in the fitness room at the Civic Center.
Tumble Bugs (ages 4-6): Classes are held from 6:30pm-7pm. Students will perform exercises to improve flexibility and strength. Students will be introduced to a variety of gymnastics apparatus.
Flying Foxes (ages 6 & up): Classes are held from 7pm-7:30pm. Students will perform exercises to improve flexibility and strength. Students will be introducted to a variety of gymnastics apparatus. Those who are advanced enough to proceed with more advanced skills on apparatuses will be able to do so.
Please Note: The specified age requirements must be followed. Contact Bob Schmidt with any questions.
Equipment
Bars, beams, and vaults will be used in the classes. We also have parallel bars, uneven bars, and rings.
What To Wear
Children should wear t-shirts or stretch tops and gym shorts, leggings, or sweat pants. Shirts should be tucked in. Long hair should be tied back in a ponytail or in braids. Everyone should be barefoot in class.
Class Viewing
Due to space limitations, parents and/or chaperons will be able to stay and observe only the first and last class of each session. In addition siblings, friends, etc. are not allowed on or near the gymnastics equipment at any time.
Miscellaneous
Participants and their parents/guardians should be aware that there is a risk of injury during participation in Wahoo Parks and Recreation gymnastics due to the inherent nature of the activities. Individuals participate in gymnastics at their own risk.
Inclement Weather
Call the WP&R Hotline at (402) 443-4500. The hotline will be updated 45 minutes prior to class if class is canceled.
Questions
Contact Bob Schmidt at (402) 443-4174 or email here.