SIGN UP FOR ACTIVITIES
WP&R offers the convenience of registering online for rec programs
We are pleased to be able to offer our customers and patrons the convenience and ease of online registration for the majority of our recreation programs and activities. We have partnered with 'Activenet' to provide a streamlined and secure online registration option.
PLEASE NOTE: There is a convenience fee which will apply to each secure online credit/debit card payment for a program registration purchase. The following fees are collected by Activenet: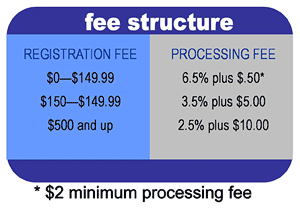 Convenience fees are applied to the entire order with a $2.00 minimum charge per registration per participant.
Click on the link below to proceed with registration.
I ACCEPT and agree to the terms and wish to continue registration at the Active.com website.